If you are looking for a great place to go Christmas shopping in London, you have definitely reached the right place. In London, you are sure to find what you are looking for to make Christmas a dream this year. With such a large variety of shops and markets there is something for everyone. To make your life a little easier this winter, we have handpicked some of London's best places to go to for Christmas shopping.
1. Jubilee and Apple Market Covent Garden Central London
Covent Garden is truly magical around Christmas time and you are sure to find some spectacular gifts at the shops in this area. With the wonderful Christmas tree and decorations glorifying the already stunning square, it really creates a truly magical Christmas feel which is worth experiencing even if you don't buy anything!  There are several designer shops around as well as luxurious bakeries and a Disney store in the Square. There is an Apple store if you're looking to buy some more techie things and all in all there is something for everyone. If you are looking for a hand-crafted gift or something very special you should definitely have a look at the Covent Garden Markets.
Particularly the Apple Market inside Covent Garden Market Hall is beautifully decorated during the festive season and awakes your Christmas spirit with ease. The market offers slightly upscale mostly handmade goods of local traders. This popular London market offers everything from fine to fashion jewellery, leather goods, home accessories and some trendy clothes and accessories. Even if you won't find your ideal Christmas gift here Covet Garden is worth a visit either way.
Photo Credit: Brabbu
2. Luxury Shopping At Knightsbridge London
Knightsbridge is the ideal area to venture to for some luxury London Christmas shopping. It is the perfect place to shop for some of the most exclusive designer brands in the world. There are many great places to shop in Knightsbridge. However, during the festive season we highly recommend you go to Harrods and Harvey Nichols department stores!
Harrods is transformed into a magical world during Christmas time and is surely a London shopaholics favourite! Sit on Santa's lap, gaze at the amazing Christmas decoration or just take a wander around the sheer endless array of merchandise. There really is nothing that you can't find here. Harrods has everything from hairdressers to ski equipment and luxurious jewellery. You will find loads of top designer brands and extremely high-quality gifts, but Harrods also have some less costly items available if you are on a budget. There is a food court with different types of luxury cuisine available as well as different counters with delicacies you can buy and bring home to make Christmas extra special. Harrods is a place worth experiencing in London if on a short or extended stay.
Harvey Nichols is great for buying exclusive designer brands as well as enjoying a lovely meal or a drink at the champagne bar. The entire building is luxurious and you will see lovely seats and sofas by some of the designer sections which are perfect for having a little break while looking at the clothes. There are attentive staff members throughout the store who are more than happy to give you all the advice and help that you need. Harvey Nichols is not a great place to shop if you are on a budget; however the bar and the restaurants are always worth a visit.
Photo Credit: Hearts
3. Christmas Market At Winter Wonderland London Hyde Park
Winter Wonderland is an annual celebration at Hyde Park that runs from Nov 20, 2016 until Jan 3, 2016. Opening times are from 10am – 10pm daily. The event offers two circuses in the park as well as Santa Land and the Magical Ice Kingdom, featuring ice sculptures, ice forests and ice characters in theme rooms. You will also find a traditional Christmas market that offers everything from jewellery, handknitted goods, local produce and home accessories. Find out more.
Photo Credit: PWREvents
4. Portobello Road Market Notting Hill
Portobello Road Market is a London institution that even got a mention in Disney's Mary Poppins movie. Yes, they are dancing down Portobello Road! The market is usually held Monday to Thursday and Saturday. While there's no market on Friday and Sunday Portobello Road itself offers mile long boutique shopping and some of London's best antique shops and vintage stores.
In particular, Portobello Road has made a name for itself for being the world's largest antiques market. But this is not all! The majority of shops on Portobello Road are privately owned and designed and run with a personal touch. The shopping atmosphere here is great with friendly locals and beautifully furnished shops.
The shops and market stalls on Portobello Road offer an eclectic mix of goods making it difficult not to find the ideal gift for friends, family and loved ones. From vintage clothes and accessories, antiques, British souvenirs, Indian and Jamaican fashion and home accessories and brick a brac you will find everything here. Portobello Road is also known for its many delicacies shops and stalls. Pick up some authentic French cheese, delicious Lebanese tapas and the best falafel in London! There's a reason why the queues at the ATMs in Notting Hill are long, so be prepared!
If you fall as much in love with Notting Hill and Portobello Road as we did book your stay here! Take a look at our short stay apartments in Notting Hill and nearby serviced accommodation in Central London.
Find out more about Portobello Road here.
Photo Credit: JoMatar
5. Christmas Shopping at Greenwich Market South London
One of our absolute all time favourites for London Christmas shopping is Greenwich Market! Greenwich is a gorgeous South London neighbourhood close to our corporate short let accommodation Canary Wharf. You may either take the DLR from Bank or one of London's high speed Thames Clippers to get to this picturesque village. Greenwich Market is situated in a beautiful market hall with proper shops, market stands and amazing London street food.
If you're looking for handmade soaps, handpicked clothes and accessories, original interior design or unique jewellery pieces, this is the place to go! You may also find a few exclusive vintage goods and some of London's best souvenirs wandering the stalls. In addition, Greenwich is absolutely gorgeous to wander around. From the Cutty Sark to stunning Greenwich Park with views of Canary Wharf and some of London's best English pubs, Greenwich has it all!
Find out more here!
Photo Credit: London Carpe Diem
6. London's Southbank Christmas Market
Still have a few most Christmas present to go? Then head over to Southbank Christmas Market! This Christmas market is located in one of London's most spectacular settings. Enjoy views of Big Ben, the Houses of Parliament and the London Eye while browsing the many stalls. If you want to have a nice wander around with a warming mulled wine in your hand, then don't miss Southbank.
There are different festive foods available as well as seasonal ingredients. The small traditional wooden chalets are lined up along the river giving it a truly magical Christmas market feel. This is the perfect place to go whether you want to enjoy a little stroll along the river, sample some of the food and drinks or buy some presents for your friends and family.
Particularly if you are visiting London on a short stay and wish to combine shopping with sightseeing Southbank Christmas Market should be at the top of your list!
Photo credit: Spectator
7. Old Spitalfields Market At Liverpool Street Station
Old Spitalfields Markets is just around the corner from our Liverpool Street Apartments and serviced accommodation in Shoreditch! Enjoy a true Christmas feel during the winter and pick up one-of-a kind antiques and handcrafted items. There are different stands by start-up designers and vintage pieces too – perfect if you are looking for something unique. In addition, Spitalfields offers plenty of great places to eat, including Wagamama and Leon.
Apart from the great selection of market stalls Spitalfields has a nice selection of independent shops ideal for finding souvenirs. If you venture on to Brick Lane, which is only a short walking distance away, you will find even more. This is the perfect area to go to for alternative and vintage one-off pieces.
Photo credit: Cushman Wakefield
8. High Street Shopping on Europe's Busiest Shopping Mile – Oxford Street London
Oxford Street has loads of different shops to suit all budgets. There are some department stores as well as independent designers and other shops available. It does get extremely crowded during Christmas time so do try to go early in the morning if you can. There are low budget stores such as Primark available if you want to buy fashionable clothing for less. This store gets extremely crowded, so do try to avoid it during the rush.
If you are looking for a store which has a bit of everything with a variety of prices you should pop into Debenhams. At Debenhams, you will find everything you need under one roof which is handy if it is very cold or raining (or snowing!) Along Oxford Street you will also find shops including Zara, Swarovski, Boots, Currys Digital, French Connection and many more. If you are looking for variety, then you are sure to be satisfied with Oxford Street and its 300 different shops. If you decide to come to Oxford Street, we advise you come at the beginning of the day with a lot of energy as it can be quite overwhelming!
Photo Credit: Monipag
9. Columbia Road Flower Market
Tucked away on a side street between Hoxton and Shoreditch Columbia Road Flower is well worth a visit! The flower market is only on on Sundays from 8am until 3pm and you shouldn't miss. It's extremely popular and you will have to fight through the crowds to pick up some lovely fresh cut flower and popular indoor plants. The prices are reasonable but if you want to grab a true bargain visit just before the stalls close and you might even get a few freebies!
Apart from the market this pleasant street is flanked by lovely small shops. Please note that most shops are only open during the market period as well. The independent boutiques offer everything from quirky kitchen utensils, handmade jewelry, hand picked designer (but affordable) home accessories and vintage goods. There are also a range of nice cafes and restaurants if you need a rest. Find out more about Columbia Road here.
Picture Credit: Timeout
10. Westfield Shopping Centre Stratford
Accessible via the Central London Westfield Shopping Centre in Stratford is easy to get to from pretty much anywhere in London. With 1,905,542 square feet of shop floor and more than 350 shops and restaurants you'll have to try hard not to spend your life savings. The mall primarily houses big name brands that range from Primark, to H&M, Zara, Adidas, Apple and even luxury brands such as Breitling and Mulberry.
Whether you're looking for a suitable gift for children, women, men or even pets Westfield offers an immense choice of stores. Make sure you plan a full day as queues in the fitting rooms and tills may be long especially before Christmas. It's also advised to bring a shopping trolley as you will most likely buy more than you intended. Happy shopping!
Find out more here.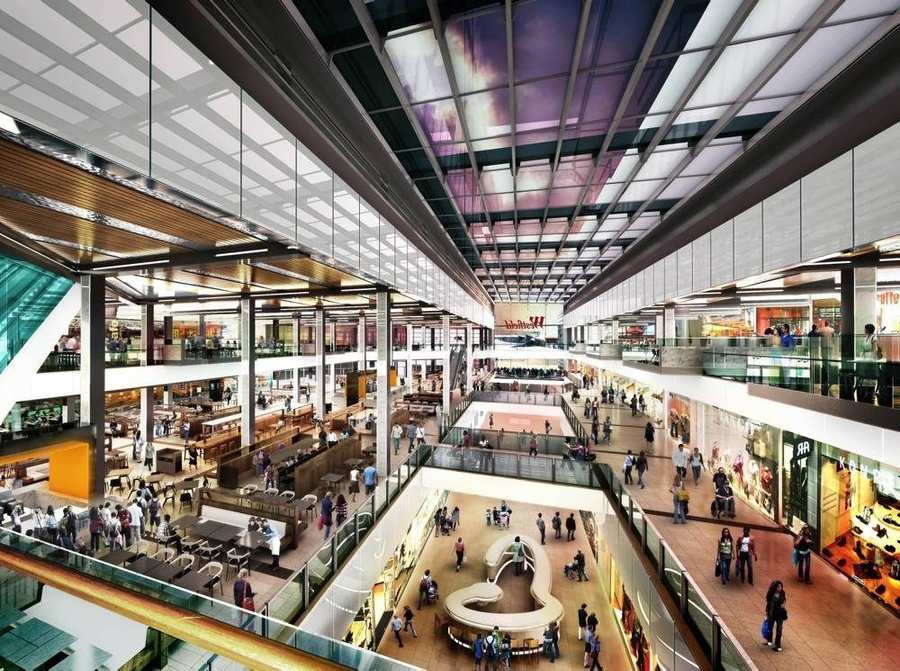 Picture credit: Timeout
If you're looking for a place to stay in London while you do your Christmas shopping, there are a range fantastic London serviced apartments that would make the perfect place to stay during the festive season.
We hope that this post has given you a better idea of where to go Christmas shopping while you are in London. If you would like regular updates from us, please like our Facebook page and follow us on Twitter.