London Insider Guide
Visiting London for the first time? Looking for London's hidden gems? Then read our insider tips for the capital! We're very active in exploring London ourselves and love to share our experiences. Whether it's about our favourite markets, the best restaurants, the most exciting things to do on a rainy day or more, our London insider tips are covering it.
All of our latest blog posts: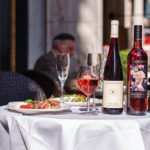 May 21, 2019
London's Best Restaurants And Bars With Outdoor Space With the days getting longer and the weather getting warmer, we understand that searching for London's Best...