A great place to stay when you're travelling is such a bonus when you're either travelling solo or with friends & family. Whether you enjoy the finest things in life as a standard or just want to explore the city out for a long weekend, we all like a little luxury. In today's day and age, the rat race can be rather brutal and so surrounding ourselves with beautiful things comes as a comfort. Getting out of bed to beautiful and comfy apartments in an amazing city is one of those things. Listed below is some of the best Luxury Serviced Accommodation in Milton Keynes. Have a look at these and you can flick your hair back and say you are worth it. We think you all deserve luxury too.
These Luxury Serviced Accommodation in Milton Keynes are ideal if you are looking for a luxury holiday treat, travelling solo for business or just want a memorable stay!
1. The Hub Apartments

This short stay accommodation Milton Keynes is a landmark city centre development perfect for leisure and business travellers alike. Set within 4.3 acres of contemporary architecture the apartments cluster around a vibrant plaza with a number of amenities. There are of bars, restaurants right around the corner from your executive serviced apartments. In addition, benefit from free onsite parking and lift access to all floor.
 2. Seven Zero One Apartments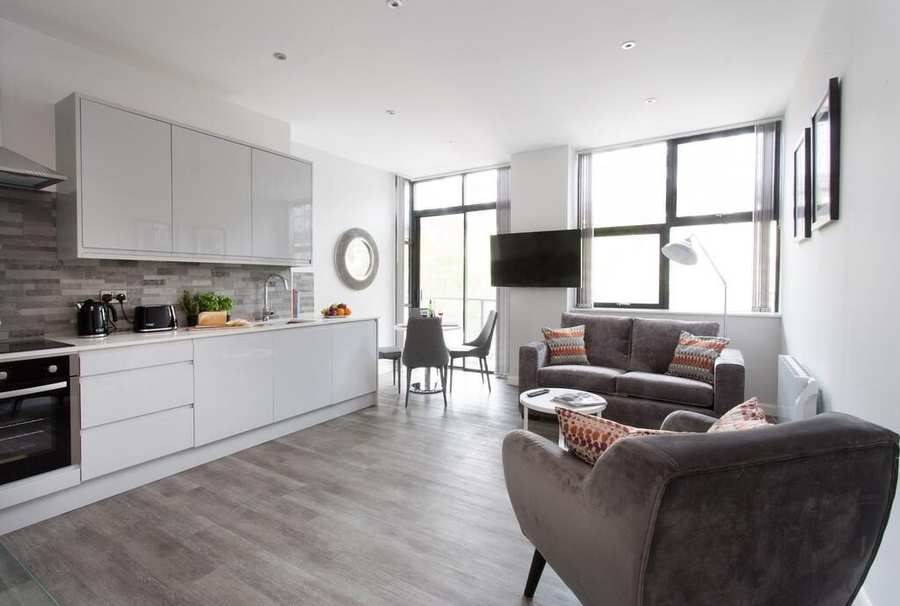 If you're looking for corporate accommodation Milton Keynes Seven Zero One apartments are located in the Heart of Milton Keynes' thriving business district. Seven Zero One Apartments are fully self-contained,  offering 1 or 2 bedrooms and two 2 bed penthouse suites.
3. Centro Apartments
Centro Apartments are a great alternative to hotels in Milton Keynes, with each modern apartment having a fully equipped kitchen, underfloor heating, beautiful bathrooms, a lounge/diner with Sky Movies and Sports, as well as the gorgeous bedrooms – perfect for relaxing after a hard day's work!
4. Campbell Park Town House
Looking for the ideal Short Stay Accommodation Milton Keynes for groups and families? Campbell Park Town House offers self-catering accommodation for up to 8 guests. With rates starting at only £162 for the entire house it's hard to find any cheaper accommodation in Milton Keynes for this quality. The modern 4 bedroom townhouse is spread over 3 floors and offers plenty of space even at maximum occupancy. The lounge has beautiful garden views and a complete home entertainment center. You thus can take advantage of a flatscreen TV with the ultimate Sky bundle including Sports and Movies and a DVD player. In addition, unlimited wi-fi is available throughout the entire house. Each bedroom is well-appointed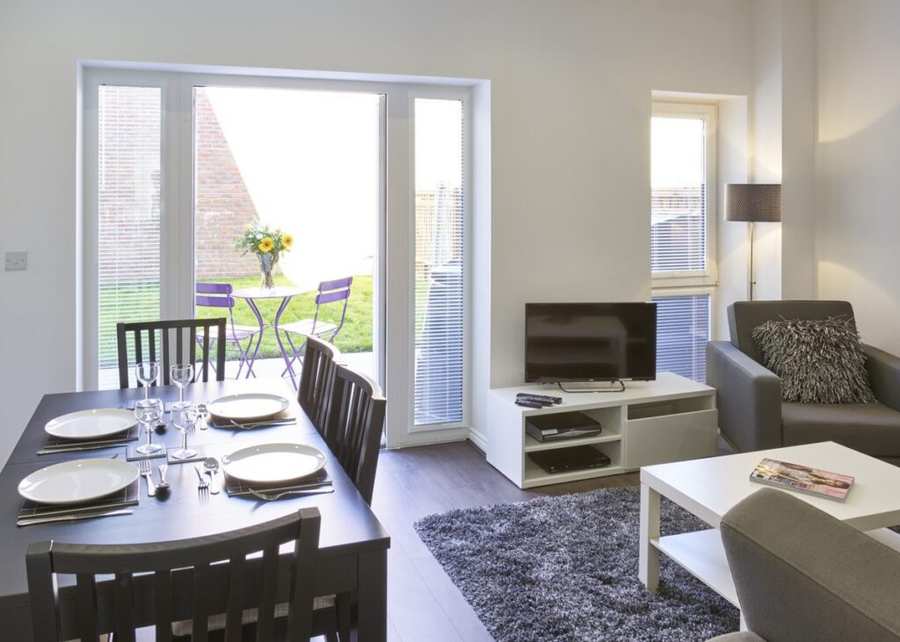 and offers comfortable beds and ample wardrobe space.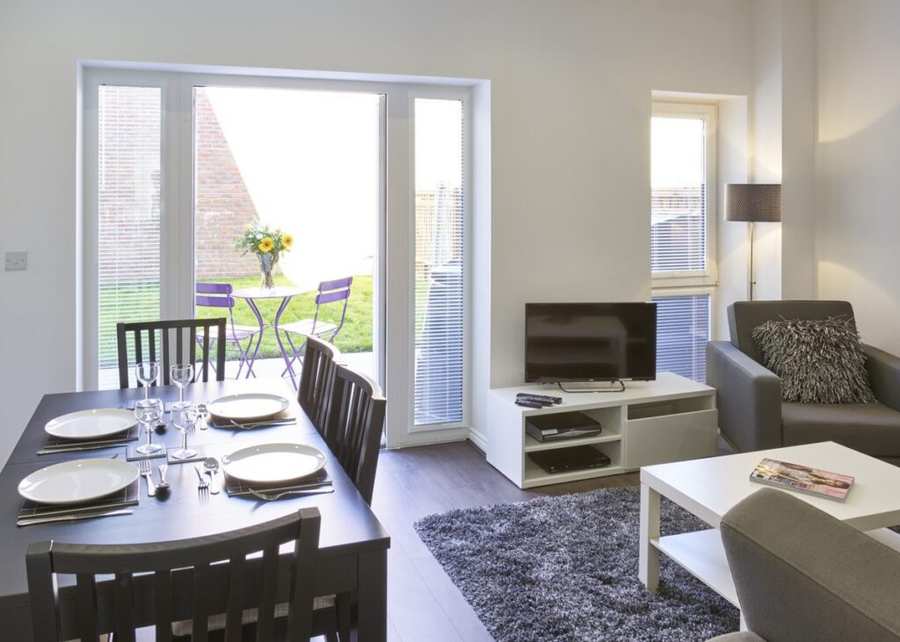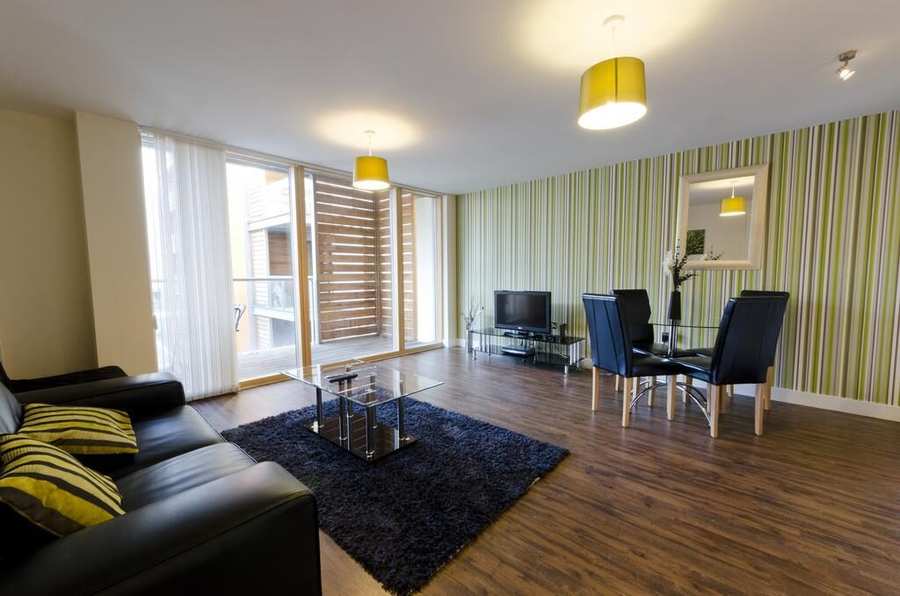 Milton Keynes Self-catering Apartments are set in the heart of Milton Keynes. They are all finished in a luxury, contemporary style and feature free Wi-Fi. Free private parking in the secure underground car park is also available. Milton Keynes Self-catering Apartments feature a large contemporary kitchen with a dishwasher, washer/dryer, and microwave. They are also equipped with an open-plan lounge and dining room with leather seating and an LCD TV. The apartments are less than a kilometer from Milton Keynes Central Rail Station and the MK Shopping Centre.