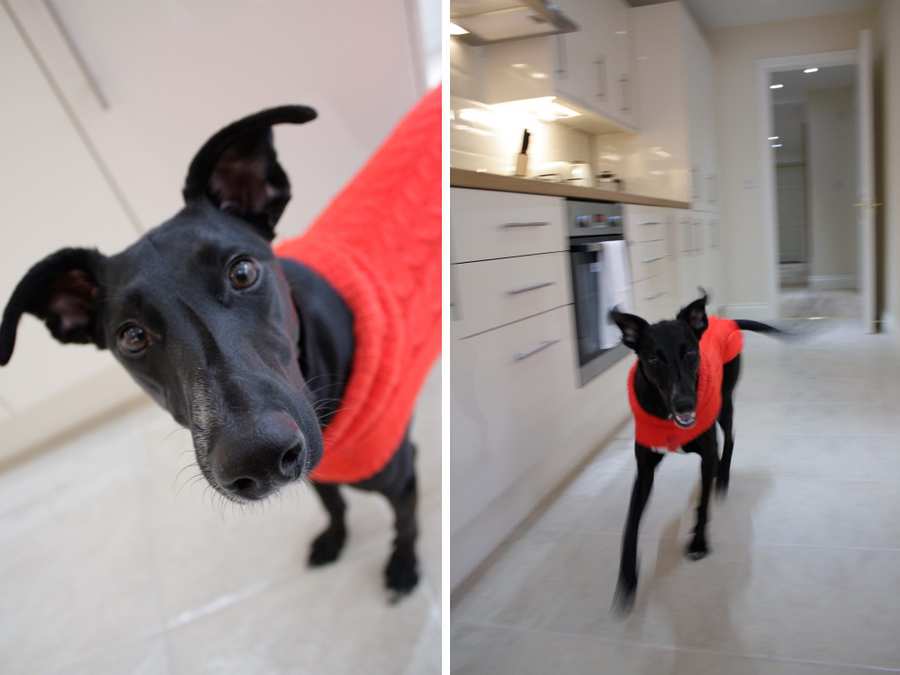 Pet Friendly Apartments London For Short Stays
Looking for the best Pet Friendly Apartments London? At Urban Stay we understand that you will not leave your beloved pet at home when relocating to London. This is why we offer a range of pet friendly apartments London in the City, Central London and beyond no matter if you bring your pet dog or cat. Your pet will surely appreciate the enhanced space to move around in a serviced apartment as compared to a hotel room.
If you arrive with your beloved pet not only will you receive a welcome pack but we also provide something for your pet. We can also assist you on finding dog walkers and pet sitters in London. As we have an office dog ourselves we can also advise you on excellent dog friendly pubs, restaurants and activities. And, very importantly we know were the nearest park spaces and grass areas are!
Pet Friendly Apartments London City
Have a look at our one bedroom serviced apartments at Liverpool Street Station in Abbotts Chambers and Astral House. In addition, we also have cheap pet friendly studio accommodation available in our London City Apartments as well as a spacious two storey loft apartment. For some luxury pet friendly apartments London don't miss our accommodation options at Monument with views of The Shard! Notably our Shard View Apartments and luxury Lovat Lane Apartments are perfect for any business or leisure stay. And the best? Book pet friendly accommodation in London with Urban Stay and we give £10 for Every Pet Booking to Animal Charities!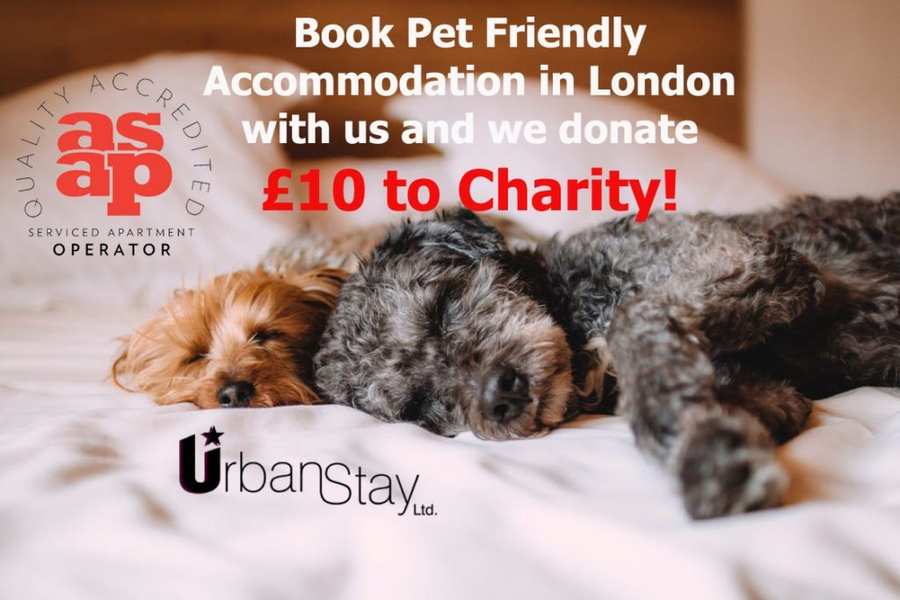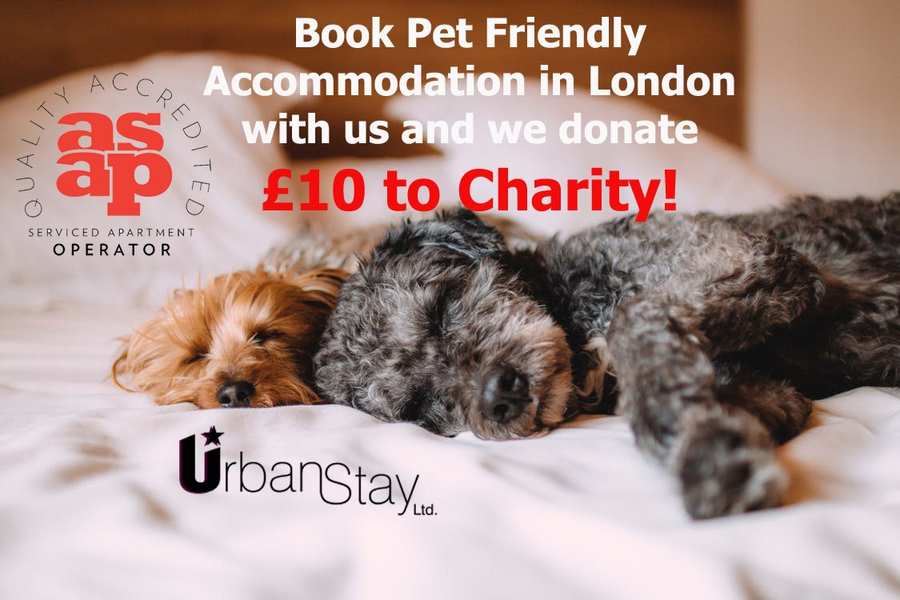 Pet Friendly Apartments West London
If you prefer to book our pet friendly apartments London in West or Central take a look at  the following. Our exceptionally spacious two bedroom apartments in Notting Hill and on Portobello Road. In addition, our brand new Cambridge Gardens Apartments and Oxford Gardens Apartments are some of our best pet friendly options as private gardens and terraces are included. Last, our London Victoria serviced apartments are equally pet friendly. There's a communal outdoor space in addition to some private balconies. Furthermore, London's best known parks – Hyde Park and Green Park are just a short walk!
Please note that all apartments will have to be professionally deep cleaned at the end of your stay when travelling with pets which comes at an additional charge. Usually only a one-off fee will be charged regardless of your length of stay.
Free Pet Welcome Packs in All Pet Friendly London Apartments
Urban Stay is pleased to announce that we are the only serviced apartment provider in London to provide specific pet welcome packs and welcome guides! Yes, that's right! If you check into one of our pet friendly London apartments you're not the only one to get a welcome pack! We now provide fully stocked cat and dog welcome packs along a custom printed welcome guide for pets! Now, lets find out more details:
Welcome Packs for Cats and Dogs
We offer two different pet welcome packs in our pet friendly London apartments – one for cats and one for dogs. You will thus find specific cat or dog treats and toys for your pet! If we know the size of your dog at least 3 days before check-in we may even be able to tailor the toys and treats to your dog's size. This is because we understand that a German Shepherd, a Great Dane or Golden Retriever certainly have different needs than a toy size breed. A proper size tennis ball may just be too big for your Dachshund, Pomeranian or Chihuahua. Just let us know in advance and we'll try our welcome to custom tailor your welcome pack.
What's included in Urban Stay's Pet Welcome Packs?
Now, the obvious question is – What's included in Urban Stay's pet welcome packs?
Urban Stay branded environmentally friendly carrier bag
Custom printed London Guide for Travelling with pets – made by Urban Stay; printed on recycled paper!
Dog or cat toy
Bag of cat treats or an organic home-baked dog biscuit handmade by Urban Stay
Cat/dog reusable bowl
Pet first aid kit
We spent a very long time deciding what to provide in our pet welcome pack and decided on the following: You will get a custom printed Urban Stay carrier bag filled with toys, treats and a pet bowl. We also provide you with a pet first aid kit, ideal for both cat and dog owners! On top of that you will receive a London Guide for Travelling with Pets!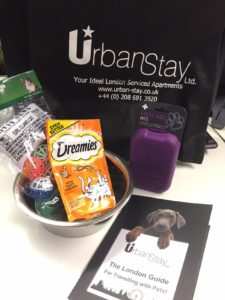 London Guide For Travelling with Pets
We created a custom made Urban Stay London Guide for Travelling with Pets simply because we don't think our 'normal' welcome guide is enough. This is why we custom made a booklet specifically for all guests checking into our pet friendly serviced apartments in Notting Hill, Victoria, Liverpool Street and Monument. Wondering where you can walk your dog nearby? We've got the answer! And we don't London's biggest parks. If you stay in our Shard View Apartments at Monument for instance you surely won't have time to take your dog to Hyde Park 3 times a day. Ultimately your dog needs a green space (a toilet!) that is just a 5 minute walk away or less. And this is the information you will find in our guide regardless of the location you are staying in. Book pet friendly apartments London with Urban Stay – your corporate housing expert in the UK.
The 16 page guide book recommends you different spaces and venues for our different London serviced apartment locations. From finding the best dog friendly restaurants, to a list of pet sitters and dog walkers, nearby vets and pet shops you will find everything in our guide. We included 14 categories to make your and your pet's London experience truly memorable. Here they are:
Travelling with your pet – in London and the UK
Veterinarians
Pet Groomers
Pet Sitting and Dog Walking
Photography for Pets
Charity Shops for Animals
Dog Friendly Pubs
Cat Lovers Paradise
Dog Friendly Restaurants
Pet Gift Boxes
Nearest Parks for Dog Walking
Pet Shops
The National Pet Show at the Excel London
Pet Friendly Activities in London
Curious? Book your stay in the following Urban Stay Serviced Apartments in London and one copy of the guide will be all yours!
In Which London Serviced Apartments Will I Receive a Full Pet Welcome Pack?
Share Pictures of Your Pet Enjoying the Welcome Basket!
We put a lot of thought and effort into putting this welcome pack together! And we'd loved to receive some feedback from you and from your furry friend! If you could share some snaps of your dogs playing with the toy or your cat enjoying a treat that'll be absolutely wonderful! Furthermore, if you have any feedback or suggestions we'd love to hear from you too.
Just drop us a note to info@urban-stay.co.uk or review us on Facebook or Google Plus!
Or use our hashtags #Urban_Stay or #UrbanStayPets to share your pictures with us!
We look forward to hearing from you!
Or give us a ring for any more questions! +44 (0) 208 691 3920