Choose the Best Serviced Accommodation in London!
Book Award Winning Serviced Apartments London with Urban Stay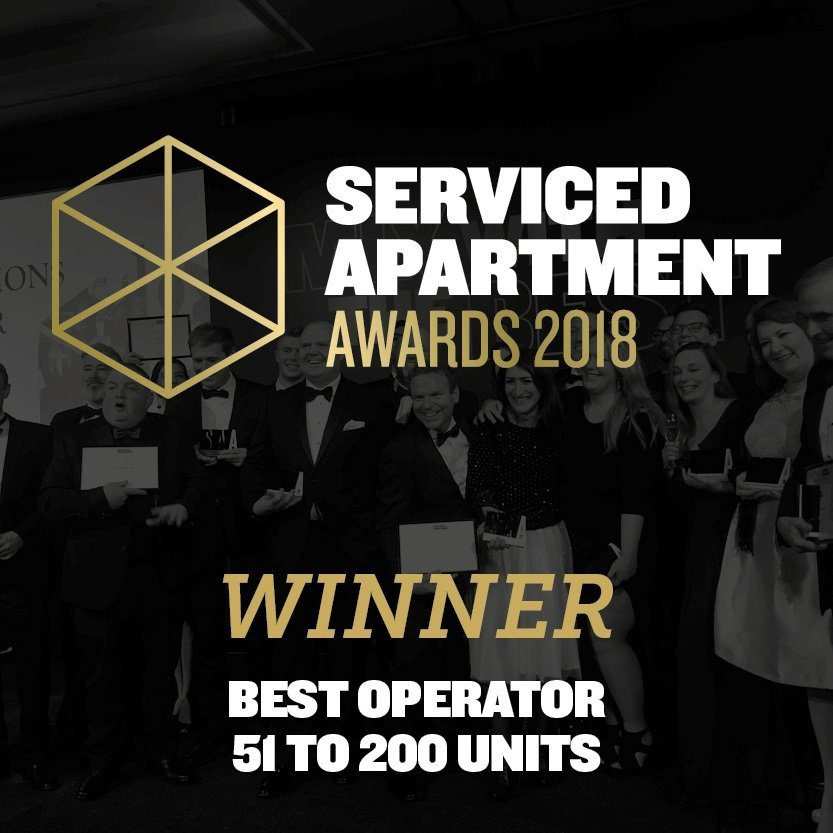 Book award winning serviced apartments with Urban Stay today! After only four years of operating in the corporate housing sector, Urban Stay has been named best serviced apartments company in the year of 2018 for operating 51 to 200 units. The award was given to Urban Stay at the 3rd annual International Serviced Apartment Awards held at the Grange Hotel Tower Bridge. The gala night event was attended by over 300 guests of the serviced apartment, aparthotel, extended stay and short term rental industry. It is therefore an exceptional honour for the whole Urban Stay team to stand out as one of the leading international serviced apartment companies. We're very proud to have been recognised for implementing forward-thinking initiatives in this sector and for providing outstanding short stay accommodation and service.
The judges' comments were: "An excellent submission providing a comprehensive overview of the brand and how they engage with their guests. The innovation they delivered through the creation of pet welcome packs and other key value adds stood out."
In addition, Urban Stay's Co-founder and Director of Finance and Marketing Jenny Dreiling was also shortlisted for the Rising Star Award – an award demonstrating best practice, innovation and excellence on an individual level. It is the third year in a row that one of Urban Stay's directors has been nominated for the Rising Star award. Urban Stay's Director of Operations and Business Development James Swift has been nominated in 2016 and 2017 and his partner Jenny Dreiling now in 2018. We're very proud to have two strong leaders in the team who's capabilities and skills complement each other perfectly.
James Swift Co-founder and Director of Operations and Business Development adds: "It is an incredible achievement to have won the award. It's been an amazing, challenging and rewarding 4 years after having started Urban Stay. We're very proud to have won this award and it reconfirm that what we're doing is going into the right direction, for our guests, industry partners, our team and the industry overall. We look forward to another 4 successful years and will take this opportunity to set the bar even higher year by year. Thank you to everyone for your continued support."
Ms. Jenny Dreiling, Urban Stay's Director of Finance and Marketing added: "We were overwhelmed by winning this award. We were up against some fierce competition and the win came as a complete surprise to us. It is the biggest achievement for Urban Stay thus far. To have won in such a prestigious category only after 4 years of operation and also to be recognised on an individual level is an honour. I'm very proud of the whole team."
Find out more here: Serviced Apartment Awards 2018 and a list of the judges.
  
Award Winning Serviced Apartments in London City
If you're looking for our award winning serviced apartments in London, take a look at our property portfolio. Have a look at our one bedroom serviced apartments at Liverpool Street Station in Abbotts Chambers and Astral House. In addition, we also have cheap quality accommodation in London City or Artillery Lane available, ranging from studio to two bedroom apartments. For some luxury ASAP quality accredited apartments London don't miss our accommodation options at Monument with views of The Shard! Notably our Shard View Apartments and luxury Lovat Lane Apartments are perfect for any business or leisure stay.
Award Winning Serviced Apartments Central and West London
If you prefer to stay more West or Central take a look at our exceptionally spacious two bedroom apartments in Notting Hill and on Portobello Road. In addition, our brand new Cambridge Gardens Apartments and Oxford Gardens Apartments are some of our best short stay acoommodation options as private gardens and terraces are included. Last, you may also stay close to Buckingham Palace and Hyde Park by choosing our London Victoria serviced apartments. There's a communal outdoor space in addition to some private balconies.