Amenity: Garden gym.
All of our latest blog posts: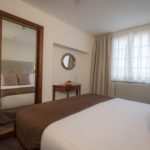 January 10, 2018
Looking for luxury serviced accommodation in London close to London's Royal Parks? These Regents Park Serviced Apartments couldn't be a better choice in Central London. The luxury...
October 20, 2017
In a prestigious setting, this mansion-like home offers 5 bedrooms/4 bathrooms in the main house with 2 adjacent studios also with en-suites. Ā All bedrooms have a TV and a...